Anna-Greta Sellman
1960­-1980
The journeys Holger Helin arranged became increasingly popular, and even a bus full of enthusiasts rolled away to win the exhibition in Leipzig in autumn 1972. Three of them were representatives from Hundskolan.
With also was Mats Höglund and Ingemar "Putte" that would shoot the dogs and Kia Sinkkonen and Kerstin Walter who was interested in buying the respective dog.
Holger had ordered two puppies of Werner DALM that we would take with us on the way home. We made a point of departure of Werner and Stralsund Brukshundklubb at 5:00 in the morning where we got to see how they are crowned and trained their dogs.
The hospitality was incredible but unfortunately there was only hot dogs and cognac, and it was perhaps not the most appropriate the breakfast so early in the morning.
In Leipzig we were well received by the president of the German Shepherd Dog Club, Gerhard Marx, who showed us around and proudly demonstrated the newly acquired X­bus.
His Hirsch sentenced DEVICES male working dog class and we were, as usual, be inside the ring and hear his open assessment and see how he drew the dog's faults and virtues of the dog boniturkort. Mats and Putte photographed dogs in the meantime.
Two comrades, Ulla Haglund and Birgitta Nilsson Wolf, joined us in Leipzig. They had been on a visit to West Germany, and when his car would cross the border to the GDR, they were checked in customs. Ulla had to pass even though she was reading a book by the Russian writer forbidden Solzjenitzyn, probably had never heard of him.
When Birgitta was going home, she had a great hurry and there were many friends she would write to the card so she had taken the telephone. It was seized! It was not easy to know what these mysterious figures would mean !!!
We made a trip to Lutzen and saw the memorial stone where Gustavus Adolphus was killed. Sweden has bought and own the land managed by Gustavus Adolphus Society of Gothenburg.
Furthermore, we saw the beautiful memory chapel and a lineup of toy soldiers that showed how the troops stood November 6, 1632.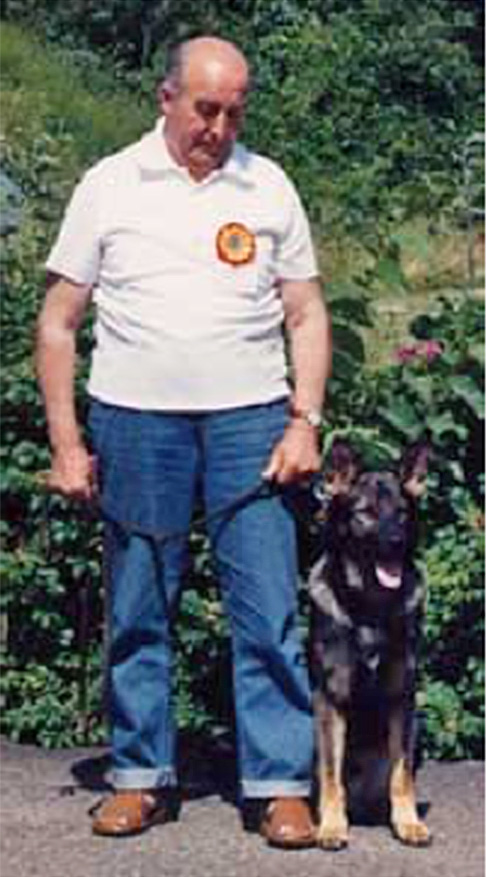 Werner DALM here with Silver Arrow iAXE that has Odin v Anders Ufer in his pedigree. Wernar who bred Odin visited Sweden and Axvalla exhibition in the early 90s.
He was not fond of what he saw and felt that the Swedish Alsatian was so bad the main stop because they could not drink water from a vase!
On the way home we stopped again at the Werner DALM where Holger brought her two puppies Odin and Ondra v Anders Ufer as Werner bred. Birgitta was veterinary arranged with customs so that the transit was fast and painless.
Little did we know then that the small gray puppy and his children would form the elite of our best Swedish working dogs.
I often visited Werner DALM heading to Leipzig or any other race, and saw his boniturkort on tens of thousands of dogs. He also had a list of all females and breeding bitch DEVICES card with all the litters of different males.
Werner took care of the large registry since Hans Hirsch died. He also took on the establishment of graining and the book became the head judge on winning exhibitions.
On one of my visits I had with me a few years graining books. It was a big heavy books in A4 format.
When I passed customs duties Sassnitz had big troubles with my books that contained so many numbers. Their manager was not there and they scratched a loss in their short­cropped vertices. But those who served dared not take the risk to let me take the books home. I explained that it was about dogs, but no, they kept the books ­ for which they were lambasted by Werner DALM, which they need to contact. I got the books in the mail some time afterwards.
Unfortunately was not West Germans the tremendous work that went into the GDR to improve the German shepherd breed. When I visited the West German victories exhibitions I often heard their scornful expression "sie drüben" (the above).
The first time I met Hans Hirsch was on the winning exhibition in Munich in 1953. It was he and Jean Sir, I knew before the war, along with a senior judge, Reissenweber, who had received permission to travel to the exhibition for the first time after the war.
His Hirsch had ordered and brought three trästatyetter of a German shepherd dog. They were handmade and very beautiful. Hirsch, however, was so snooty treated at the party when he would submit honorary prices so he left only two of them and gave me the third dog. It adorns more then 40 years my bookshelf.
At an exhibition in Axvall few years ago I was asked at the opening cocktail for officials invited by a German judge how it came about that I spoke good German. "I have every year been on the German exhibitions and competitions. And in a week I will travel to the show in Leipzig," I replied. The referee was putting the cocktail in the throat and stared at me with frightened eyes wide and said, "You mean you been to Leipzig? Well then, many times. I go there every year," I said.
Silence … it was like I was sworn in the church. Hastily saved the club champion the embarrassing situation by saying, "No, now we have to hurry, waiting for the drink."
The last time I met Odin, it was with Ivan Battle in Eskilstuna. Odin was old then, but bar age with honor. He showed some love for my boots which he constantly brought into the hall and left to mum in the kitchen. When he thought we sat too long in the coffee cup he came to me with their boots and left them. "Now enough is enough with the talking dog" he seemed to say. I think the word "cozy" was the best fit for him.
He had been uppstallad a time in Hundskolan but had since been his home of Ivan Strid. He had 424 registered puppies. 98% had free hip joints. Among the farmers who dare to invest in the unknown dog from the DDR (they learn not to have repented) was Hundskolan, with 60 registered offspring, on the Silver Arrow, Your farm and many more.
Some breeders had two or three litters Odin. The gray color of many of our best working dogs reveals that his name is present in their pedigrees. A careful inbreeding has further enhanced his mental characteristics. But his character in terms of rare strong lineage ­ see the pedigree of its value numbers ­ shows that he was something to build up a working dog tribe on.
Anna­Greta Sellman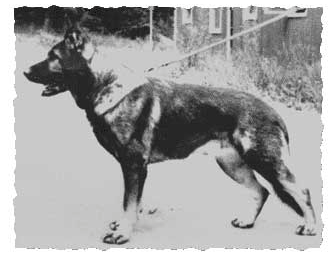 CONDITIONAL Odin v Anders Ufer
Reg.nr: S05038 / 72 Born: 1971­02­15
Imports from the GDR ­ Conditional and L­tested + 181p Tjänstehundcert ­ 1 Ökl
Use Breeding Price ­ graining Diploma, 3st.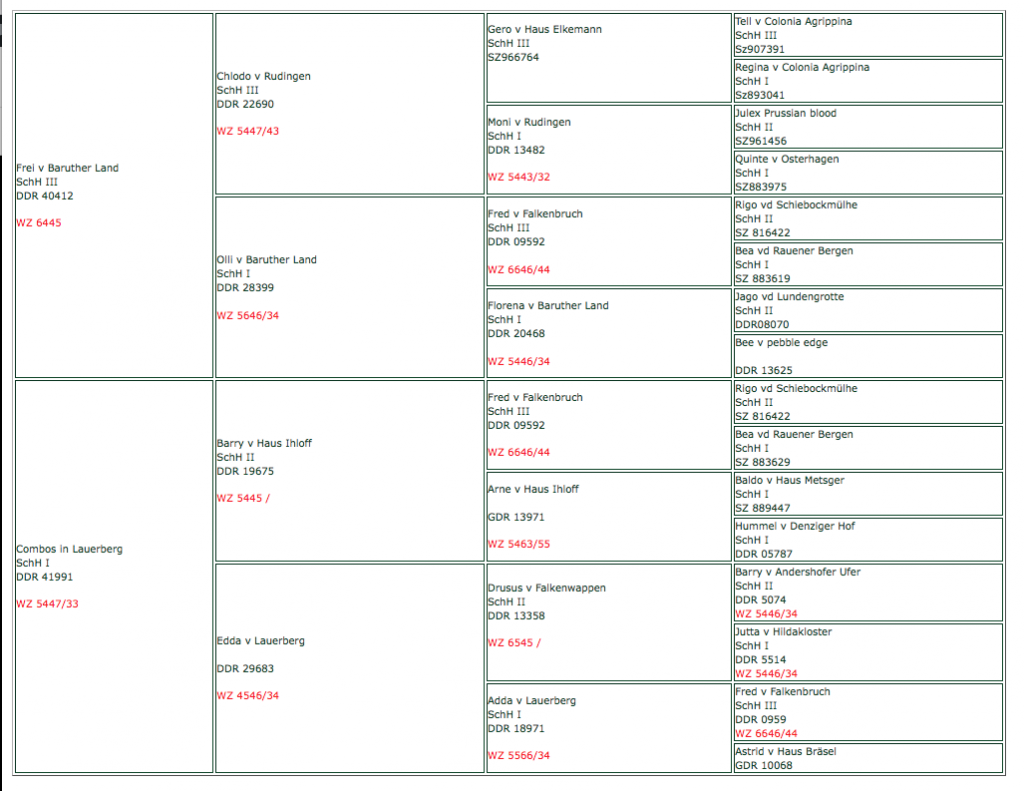 Approximate description of the GDR applied value numerical system.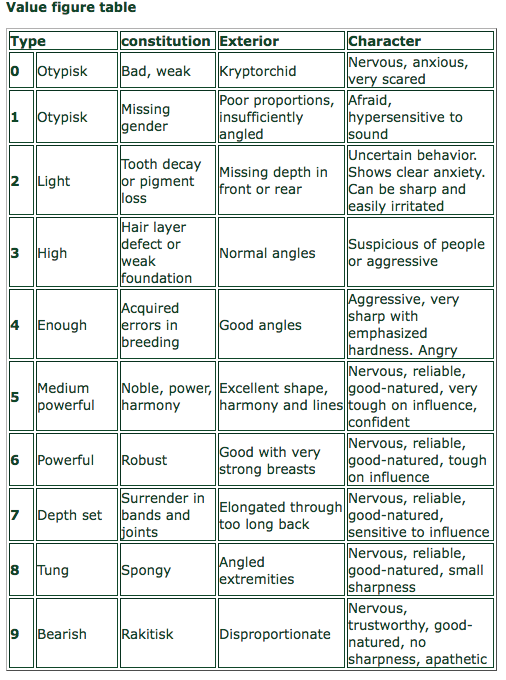 Värdesiffersystemet is based on the dog's type, constitution, exterior and character ­ the latter with the addition of sharpness and hardness ­ value added by figures since the introduction of the pedigree. To value the number 5 which is the ideal. The further the value is from 5, it is up or down, the worse.
The dog's type must be according to the standard medium duty. The numbers 0­4 in the first column shows the atypical, light and högställda dog, to the number 5 to reach the ideal, while the numbers 6­9 are valid for dogs of all heavier type.
Regarding the character to get a good picture of this if you notice that grades 0­5 represents a rise from ångestbitaren to by the too sharp, the next biting the dog until the dog ideals No.5. The numbers 6­9 continues with strong nerve calmer but all dogs and arrive at No.9, the apathetic dog. In recent years, a slash with two numbers added. These terms of sharpness and hardness. This represents 1 no sharpness / or hardness and 5 show very good sharpness and hardness.
In memory of CONDITIONAL Odin v Anders Ufer
On February 15, 1971,
was born in Sralsund in East Germany a gray German shepherd.
Whose offspring would come to dominate the SM in the mill, during the years 1978 to 1985 and then his grandchildren. His name was Odin vom Anders Ufer. He was imported as a puppy by Holger Helin. Odin's home became of Ivan Battle in Eskilstuna. Odin was named and L­tested + 181p, he took tjänstehundcert, 1 open class, was awarded Use Breeding Price and graining diploma. Odin HD statistics are unique, of 196 X­rayed is 194 UA, 2x 0­1 = 99 % friröntgat. Even his daughters and sons are known to inherit fine hip joints. Odin was the father of 15 Mill Champion and service dogs include: Your farm Gaid SM victory protective SBCH Avalanche Valley a­Cleei Championship triumph search 2ggr. SBCH conditional Alfa SM 3rd protection and Sweden's first performance test champion in four branches Conditional + 240p. The owner / driver Hasse Lundgren triple performance test champion conditional Harras SM second search triple performance test champion Arrack SM 7th Protection SBCH Silver Arrow Mix SM 3rd track, conditional + 259p The SM 1988 attended seven grandchildren. SBCH Silver Arrow Solo, conditional + 229p SBCH Lindholmens Nirra SM 5th report SBCH Lindholmens Neva.
http://www.brukswebben.se/AGS28.htm
Of these, INT SF SBCH Silver Arrow Xa, Sm win three years in a row, the most successful. Odin was also used by the National Hundskola in Sollefteå, to 10 litters. 60% were service dogs.