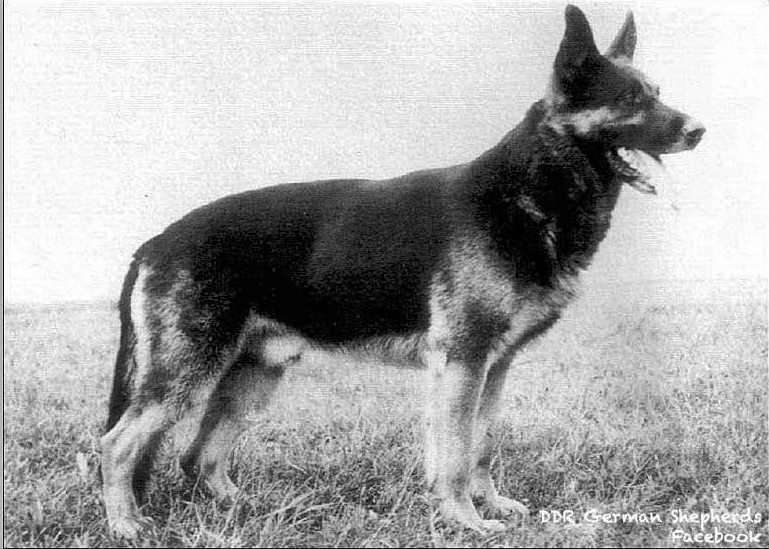 DDR Sieger 1964-1965-1966
V-Greif v Felsenstein Sch3 FH
V1 Youth Class DDR 1963
V1 DDR Sieger Show 1964
V1 DDR Sieger Show 1965
V1 DDR Sieger Show 1966
V2 DDR Sieger Show 1967
V2 DDR Special Show Mansfelder 1967
V11 Most influential males from the DDR by Werner Dalm

DDR Kor: Medium-sized, medium-strength male with a good head and expression, excellent building harmony and lines, very good Waving of fore and hindquarters and space-creating Movement with powerful action from the hindquarters. Safe and balanced in nature with good sharpness and good hardness.

(1965) √, without his owner having succeeded in getting the dog into the condition of the Brunner World Show.
In last year's report I described Greif as an ideally built shepherd dog with quite good building dimensions (62cm at the withers, 28.5cm deep at the chest, 70cm in length and 38kg in weight), who perfectly demonstrated a perfect rhythm of movement in all gaits. He has kept all that and has hardly lost any of its youthful splendor.
Greif has now become a top dog and thus also a coveted father dog. He embodies his own type, but still has a striking resemblance in expression to his paternal grandfather "Alf Nordfelsen", while his brother Götz, HGH, WZ. 5433/33 (see picture Körbuch 1964) remains in more the Type of the maternal line. Very early on you could see.
For example, observe the good hereditary strength of his father, who asserted himself against many female partners with a special hereditary energy. But this great value from his father was not so much the subject of consideration as it was with the inheritance with Greif. So one had to experience that voices were raised that believed they should warn against further offspring with Greif.
Only when Greif was able to assert himself after overcoming the inhibiting prejudices, which were not always based on fair greenery, the value of this male rose above all objections unmistakably inherited in his offspring, warnings that sire animals, which are prejudiced in the focus of breeder's opinions, only because of the value of their offspring. Record offspring at the age of 9-12 months, who are really good in nature and well-designed in physique.
With Fee v. Porphyrbruch brought Greif the single-eyed "Barry v, d, golden herd" and with Danka V. d. Sonnenwand the long-haired siblings "Bär und Bärbel von Gardeni". The lack of the small premolar P. 4 was found three times – we have so far been able to judge the offspring 14,18
The biggest disappointment was probably the connection with Anni vom Klein-Erzgebirge who is verifiably deformed in the hip of a bitch and was the basis of a polemic in the Erzgebirge area. We know from Greif's littermates that Gabi WZ. 5436/34 and, after the change of ownership, also Götz, HGH, WZ. 5433/33 are suitable for breeding. Via his mother, Greif comes from a bitch line that makes history in breeding, he moved to Rolf Osnabrücker-Land 3-4.
She still does the not always easy service with the herd at the age of 8 and is a very typical daughter of her Mother, still quite fresh and lively, with Gundo she brought the G- and J-litter by Felsenstein, both of which turned out very well. The other 4 litters are unfortunately out of control. Old theories of the "blood fanatics" emerged and have not been given any essential importance for breeding.
1966 death report – Hans Hirsch: Already in the foreword about the GHKR it says: "Griffin v. Felsenstein" seems to surpass his father's fame. With his 33 offspring at this year's main breed show, he probably presented the most top animals in the JunqhunrJ-. youth and junior classes. His heredity was confirmed by many judges at the progeny assessments. In terms of appearance, Greif was strongly influenced by his mother and her father. He is because on "Roll v. Osnabrücker Land".
Then the actual report:
The top was better for breadth this year, even if none of the younger males could stand out after the two-time winner in 1964/65 "Greif v. Felsenstein was able to contest the victory at this laqe because of his excellent body structure. good physical condition, excellent movements and youthful freshness who knew how to keep his competitors at bay.
So it was not difficult for me to give him the title of winner for the third time in 1966. This is rare in the history of the German Shepherd Dog and not only shows the excellent quality of the male, but also a stable constitution, especially since he was up to the
The limit of what is permissible as one of the most sought-after father dogs in breeding was now in the hands of its young owner (Klaus Friedrich. Crimrnitzschau) was released in fabulous condition.
In the reports from the main breed show in 1964/65, I gave Greif the testimony of an ideally built shepherd dog with the best conformation and perfect movements in all gaits. The resilience that can be observed in him I have never seen his extraordinarily powerfully muscled hindquarters so perfect in any German shepherd.
It is not easy to characterize the inheritance tendency of his parents, but his father's expression is still recognizable – even more clearly as he gets older. Which hardly appeared this year and in no way impaired the overall impression. Greif has been in breeding for about 4 years and has proven to be a good sire, who already seems to surpass his father Gilndo Even with "outsiders" without any blood or type connection, he still gave something of his own goodness. Just like his father,
Greif was also the focus of breeders' opinions because of preconceived assumptions about the occurrence of hip joint diseases. Had we not kept our wits about us here and entered the playground of such assumptions, this dog would not have emerged with such an excellent heredity.
We are not indifferent to the problem, as one likes to say, but one cannot throw the baby out with the bathwater. For we have been observing for several years what can and must be included in the consideration of the possible causes of dysplasia In this way. It could at least be recognized that certain views that had been held for a long time were significantly strengthened in their probability could be made, while others disagreed with these experiences —–End Hans Hirsch—-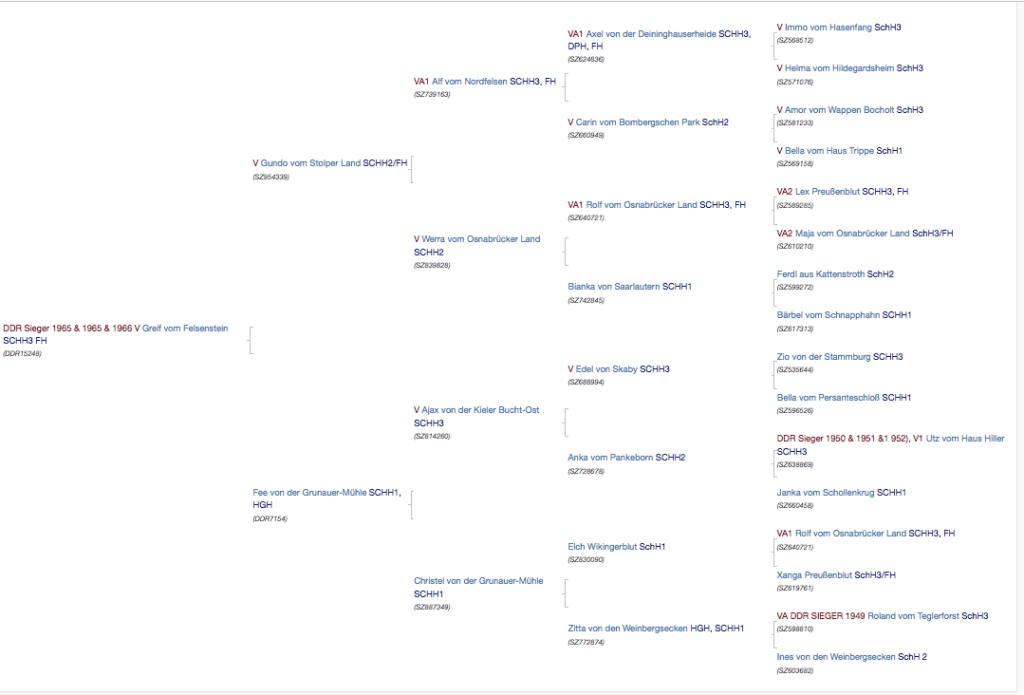 In Greif's mother, Gundo had found a partner of excellent type, in whom not only her mother, but also her father were quite faithfully inherited, and thus Gundo and his mother found support. It is perhaps still interesting to take a closer look at the genetic value of the male dog. From 50 – 60 litters so far, 120,100 offspring were recorded in the offspring assessment.
We were informed of the occurrence of long hair 5 times, testicular deficiency from 4 different bitches 6 times, of the absence of the small premolars 4 times (about the absence of the large premolars there are no reports yet information has been provided) and about a lack of ears! reported 5 times.
This is a fabulous inheritance, with which he has expanded the circle of outstanding sires in German Shepherd breeding and makes line V one of the most influential bloodlines in the future. -End of winner reports
119568973_3275783099134340_4176744011748615508_o
In the KÖrbuch 1966, 10 breeding-suitable or licensed Greif-sons appear in the list of bloodlines.
The most important are;
Donar von der Galgenschlucht SchH1 WZ 5446/44
Conny vom Haus Plitzncr SchH3, FH WZ 6436/34
Achilles von La Plata SchH1 WZ 5443/33
Ajax von La Plata SchH1, FH WZ 5647/43
Allah von der Williamsklause SchH3, FH WZ 5547/43
Another 26 sons appeared in the Körbuch 1967, of which the following should be mentioned:
Max von der Bergstaße WZ 5446/44
Dux von der Diana SchH1 WZ 6537/34
Etzel von Eden SchH2 WZ 4436/34
Odin vom Felsenstein SchH1 WZ 5446/44
Falko von der Galgenschlucht SchH1 WZ 5447/32
Cherri vom Haus Krüger SchH1 WZ 5446/44
Bleck vom Haus Rhode SchH1 WZ 5536/44
Ariel von La Plata SchH1 WZ 5543/32
Bravo von La Plata" SchH2 WZ 5547/32
Lex vom Maienplatz SchH2 WZ 5547/32
Donar von der Rote Hornspitze SchH1 WZ 4533/44
Erko von Rudingen SchH1 WZ 5543/32
Cäsar vom Sachserrbluit SchH1 WZ 5545
Argci von der Williamsklause SchH2 WZ 5446/44