VA SGR CH Bodo vom Lierberg SchH3 FH KKL1 CACIB, ROM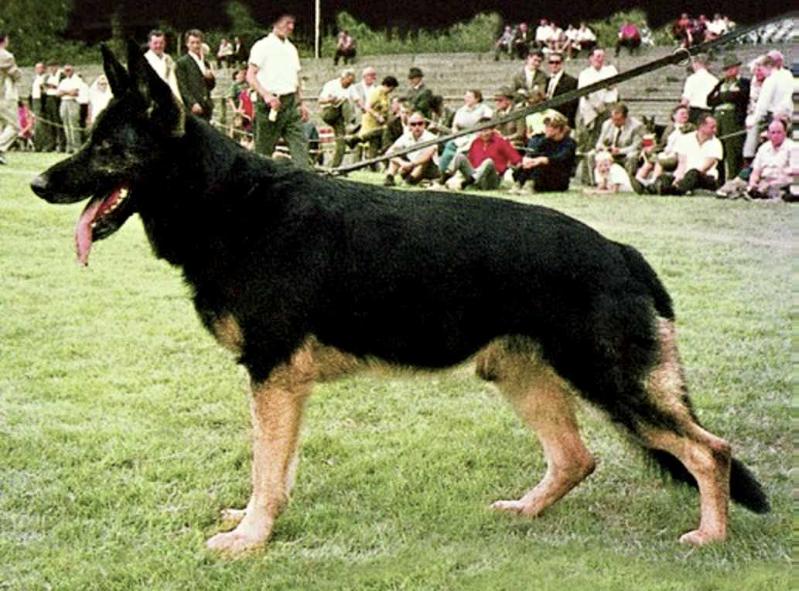 A post for the DDR Aficionado. A tail of two brothers, one known as one of the best out crosses for the DDR line ever. I have asked the question why was Bodo a Sieger not as active within the line, here finally an answer.
Thanks Julie Hastings Barnes Via Debb Womack:
As far as I know Bernd never came to the states, it was his brother Bodo v Lierberg ,1967 Sieger who ended up in CA. As I recall ,because the Germans were concerned about weaker temperament, they did the first courage test at the Sieger show in 1967. Many of the top dogs failed the test but Bodo and Bernd passed with flying colors.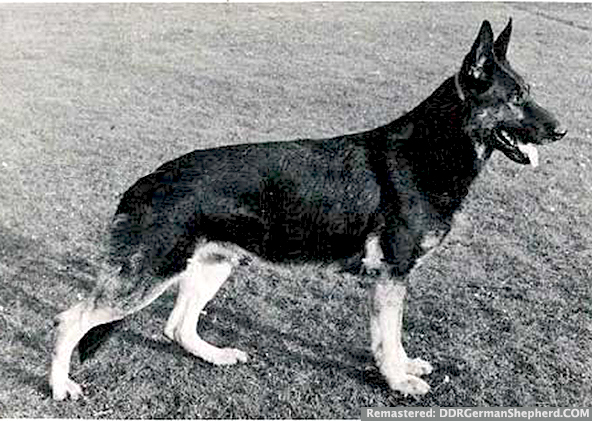 Bodo was selected as Sieger and Bernd was VA3, I think. Bodo was by far the best mover and had the perfect masculine head.
As the story goes Erich Renner, a German who lived in S. Cal, and ran a Guide Dog School, had traveled to Germany prior to the Sieger show, fell for Bodo and arranged to buy him before he went Sieger.
Owner wasn't happy but had already agreed to the sale.
Shortly after he arrived in the States, Erich brought him to Sacramento for the GSD Specialty Show. Erich was a friend of Heinz Peters,our trainer,so we knew he was coming. When he walked on the show grounds,off leash, he owned the place ! I have never been so impressed with a dog in my life. Erich played with him, off leash and had his complete attention, so focused, all day. He was very approachable but his attention never wavered from his new owner.
The show was held on the grounds of a motel and Erich had a room overlooking the show grounds. When we walked by the room,door left opened, Bodo would stare intensely, daring anyone to enter, never leaving the room or moving to the door. (and we walked by many times !) When it was time to show he was the only dog off leash and he moved/floated around that ring, breathtakingly. It was a sight for the ages ! For me, from that day forward all dogs would be judged by his standard,his movement,his temperament,his demeanor. He had a real "look of eagles" matched by no other !
The judge at the GSDC of America National Show that year said :" he swept around the ring with such precision and effortless ease as to give the impression that he could trot for hours without drawing a deep breath" Exactly my impression ! The sad part is that he was not "American type" so was bred very little here,Erich used him and a few working type breeders,(we didn't have any brood bitches at that time) He did win his ROM here.But if he had remained in Germany he would have been bred so much more ! So Bernd was the go to guy and produced so much more progeny.
They both produced exceptional temperament and trainability. Both also threw cryptorchidism.