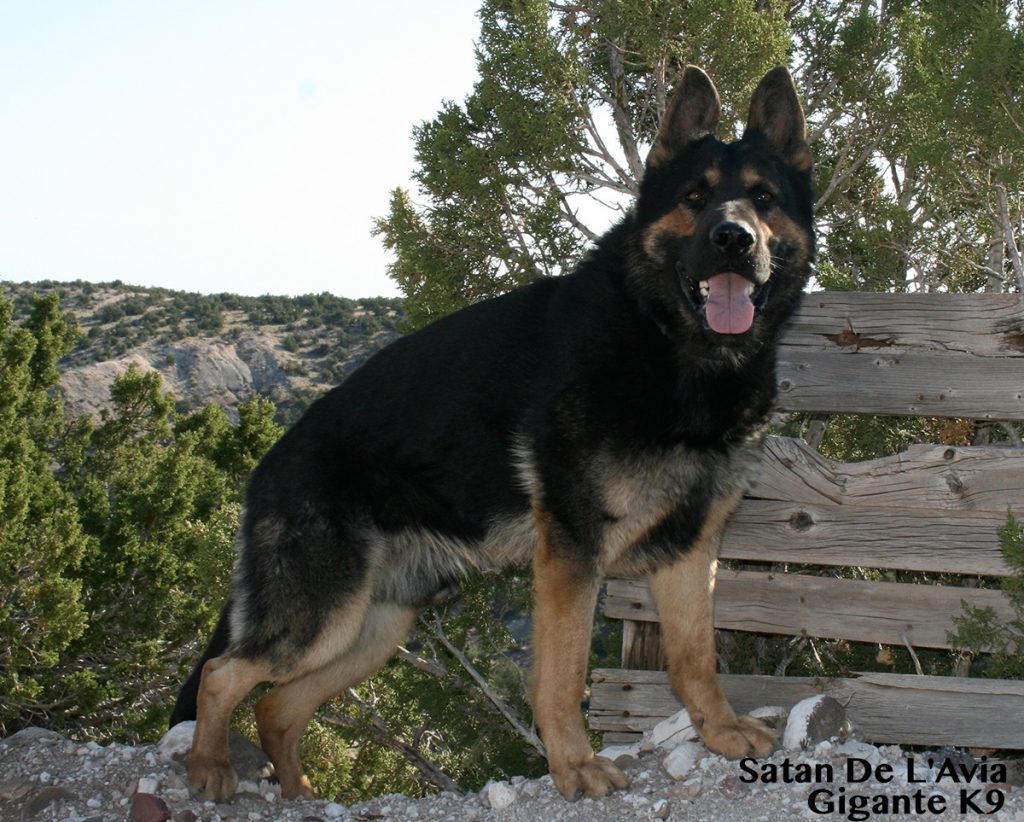 East German DDR Line 12
Satan aka Jagger has some of the closest and best DDR lines you can find anywhere in the world. In his 3rd generation, he has 6 DDR registered dogs from behind the wall, almost impossible to find anymore. In his 4th generation, every dog but one is a DDR registered dog from behind the wall. He is pure or 100% DDR, every line goes back through East Germany. But he is also a member of a very tiny tiny club of potent DDR line dogs left in the world. I see ads that say 100% or pure DDR every day what I almost never see any longer is a pedigree even remotely close to his, very very few of these dogs are left today.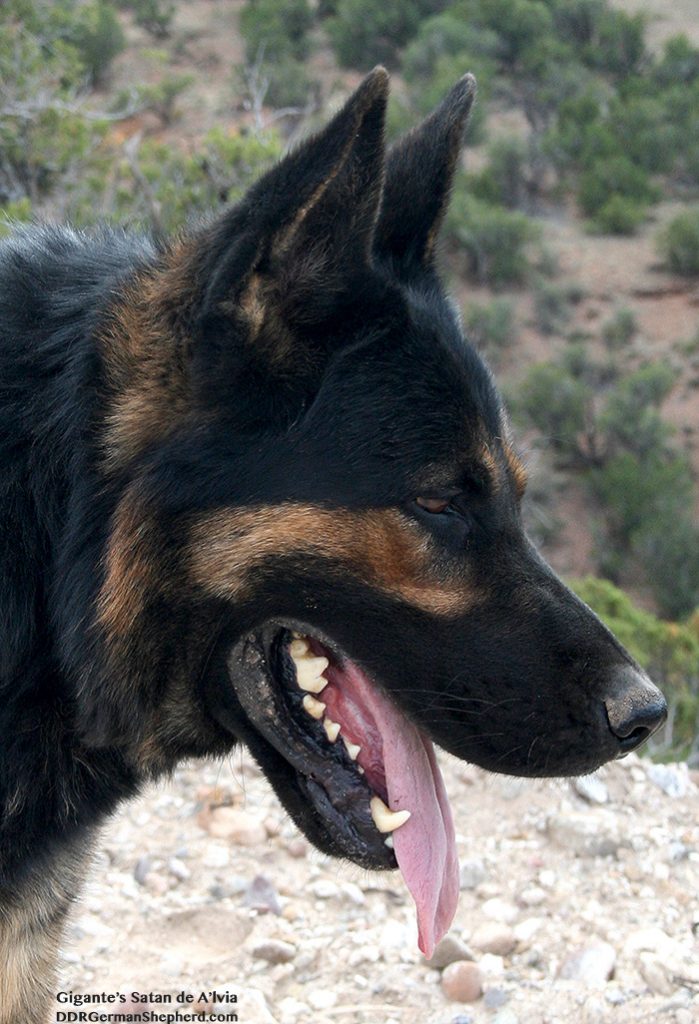 Many East German dogs can have pedigrees that all go back through east german dogs. Very few have DDR lines in 4th or even 5th generation. They are still east line but far removed. The trick is finding good mesh or dogs without serious issues in the lines like bloat, hip elbow issues, nerve & instability issues.
With each generation a loss in potency and worse yet the inclusion of lines that don't work with each other and health consequence added in from people who are mating DDR dogs but have no understanding of the lines what-so-ever.
Jagger, thankfully is not from one of those breeders.
Jagger is a son of V Rasputin vom Flossgraben a SCHH3 FH2 dog. He is a conglomeration of just about every one of the best east german dogs. His foundation is incredible and extremely rare. His line breeding impeccable. Ingo, Ohle, Condor v Marderpfala a 71 & 72 SGR, Fels a 1980 SGR, Bodo Grafental a 79 SGR, Burga Himpel, Mara Rundeck, Don Himpel & Gero Guckelhorst a 74 SGR.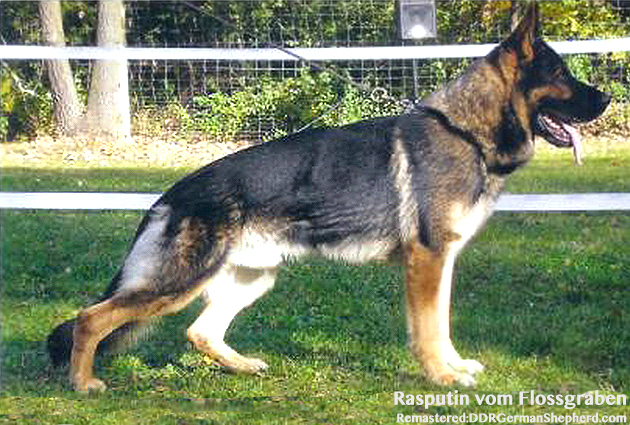 Jaggers dam G Jule vom Flossgraben adds to the father line's exceptional line breeding with many of the same dogs above for serious potency and adds to them with another foundation that is also one of the best in the DDR world without question.
V Berry von Christelas, DDR Sieger 1969, V- Xito vom Baruther Land DDR-SIEGERIN 1967 & 68, V Kessa vom Haus Himpel, DDR SGR 77-78; V Cliff vom Bleichfleck SCHH3 FH3, PSH3,V Gomo vom Osterberg SCHH3 FH, DDR SGRN 1970, V Halla vom Haus Himpel SCHH2, VA3 Bernd vom Lierberg SCHH3(V-BSP), FH, V Frei vom Baruther Land SchH3,V Ex vom Riedstern SCHH3
To be clear these are not just dogs found in the pedigree, these are dogs that are line bred upon and build Jaggers foundation. Many of the dogs above are line creators, dogs found unique and different from the father line. Importantly they had potency to replicate traits both physical and full genetic make up that where deemed not from which they came, new. This dogs where given a new line number and they separated from the sires line to create their own unique line of DDR dogs.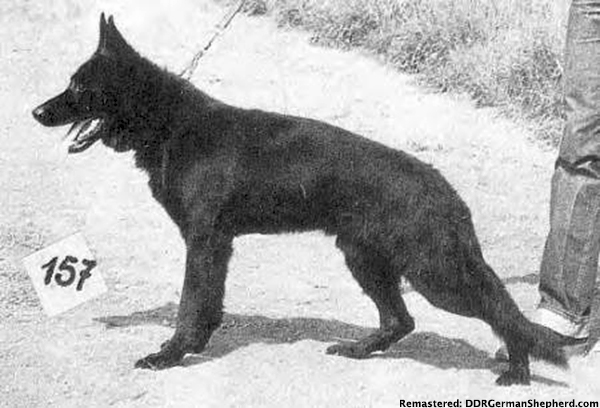 To appreciate Jagger and the complete package he offers come visit this very big male. To appreciate his line and the foundation given we can go back to his pedigree.
Jagger himself is line bred 4-4 on Mentor a line 12 dog. Mentor is a SCH3 dog with an FH and PSH2 a son of Golf Ritterberg a much harder line to find now a days that has not be muddled over with by the inclusion of unhealthy dogs.
Additionally Jagger is line bred on.
6 – 4,6,6 V Jeff vom Flämings-Sand,
6,7,7 – 5,6,7,7 V Ingo von Rudingen,
6 – 5 V Don vom Rolandsteich,
6 – 6V Artus von der Westendhöhe
6,6,7,7 – 6,7,7 V Ohle vom Rundeck,
7,7 – 5,6 V Berry von Christelas
Also included in his line breeding: DDR Sieger 1973 & 1974 & 1976, V Cäsar vom Rangental, V Frei vom Baruther Land, V Ex vom Riedstern, DDR Sieger 1969, V- Xito vom Baruther Land V Pushkaß vom Haus Himpel.
Jagger is a med drive dog with one of the best shut off switches I have ever seen. He can go from protection aggression to calm in a blink of an eye. He does not have pronounced prey drive, he does not chase flash for no reason. He is a strong defensive dog. Extremely intimidating looking, with a seriously stable & clear head. He is bullet proof to noise and environmental issues. He is aloof with other animals large or small. Friendly and out going with people new to him. Would not be considered dog aggressive but will not be punked by any dog. (Thats perfect for me) He is not a sharp reactive dog he is thought out and is slow to fire. But don't piss him off with a real challenge, he does not like that.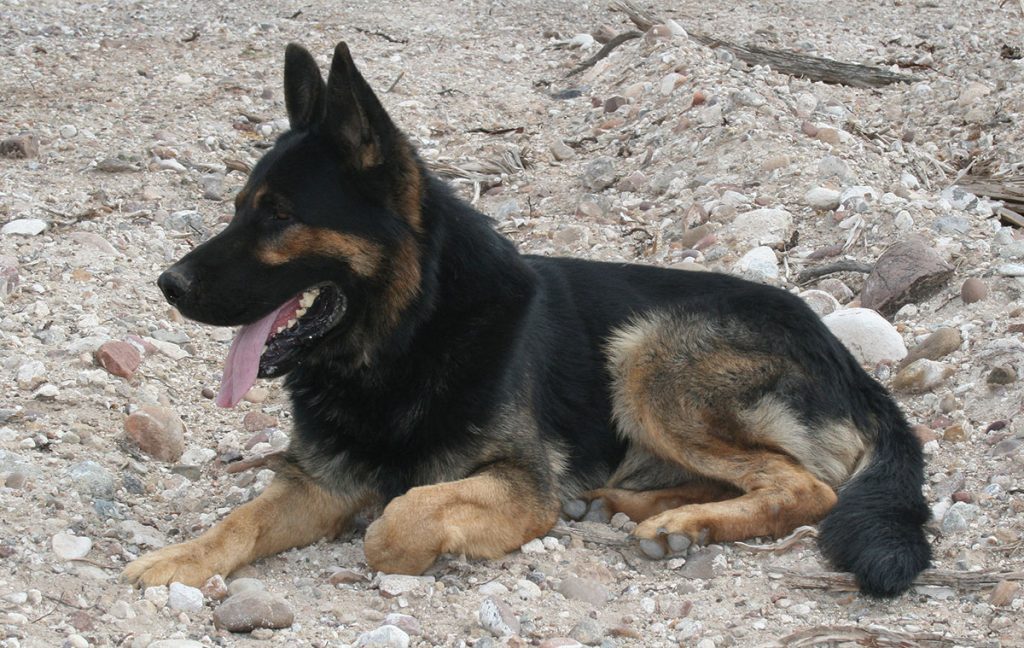 With me his progeny has been exceptional. He produces oversize dogs for the most part and occassionaly standard size with strong DDR type characteristics. He has produced extreme drive podium competition type dogs with very high prey drive, and placed dogs in service work as well, also depending on the line I use and the traits I want from the breeding. None of his progeny have had X-ray or OFA failure for HD/ED in any of my breedings to date, very healthy pups without a major genetic flaw. Thankfully.
As a dog he is also as good as gets very focused on me very obedient trust worthy fun family member. Has great intuition and is not barking and challenging non threats. He is a vocal sucker when he is bored he will grab rocks boards branches tree's water bowls whatever and tell them all about his day. Bring him in the house and poof he is down quiet respectful and calm. Very good grips with little chance of backing him down should the need arise, I don't see it happening on this dog. An incredible acquire from dog to pedigree foundation.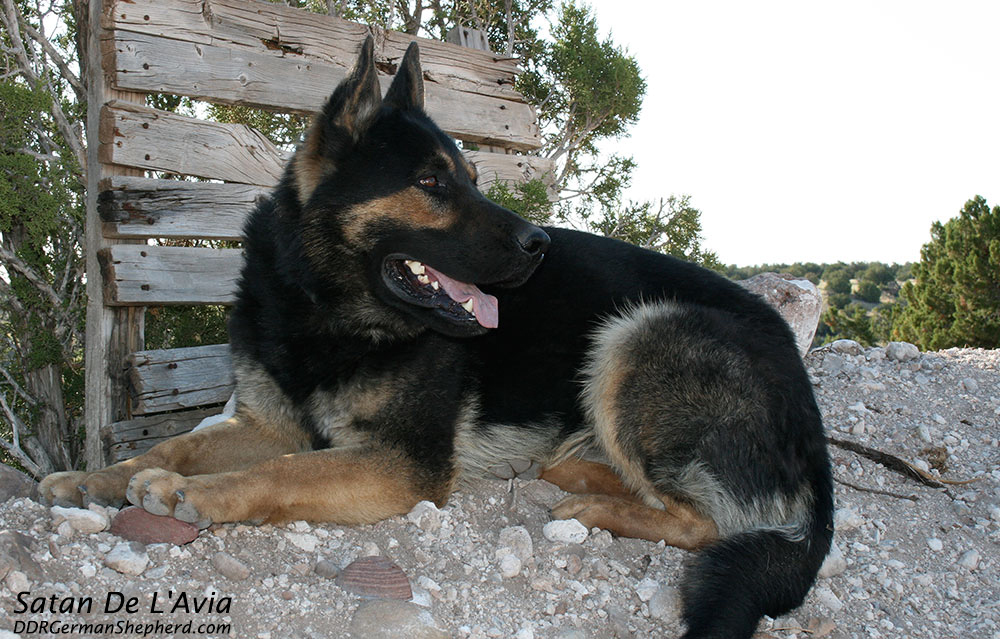 I don't post much like this, once i have the right foundation without the sloppy terrible breedings that came after the fall of the wall (probably 95 plus percent literally) its about the dog in front of me male or female and their ability to replicate wanted traits pheno and genotype when mixed with proper line.
There are east line dogs (formerly DDR) being bred on every corner now a days. Pure or 100% DDR means squat, nada, nothing. You have to know the lines to know if the dog has a proper solid DDR foundation.
Jagger's DDR pedigree is unarguably one of the best in world, left for working dogs. So grateful to have him.
Thanks to John LaTorre for spotting him for sale and his knowledge shared on his line. Thanks to Jesus Liano his breeder. Thanks to De Juco kennel for selling him to me to preserve and move forward his line properly for next generation breeders.
JDean Gigante